Suncast Horizontal 4 Foot x 2.5 Foot Outdoor/Garden Storage Shed, Stoney Grey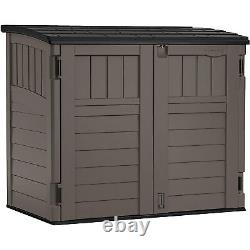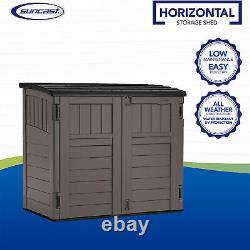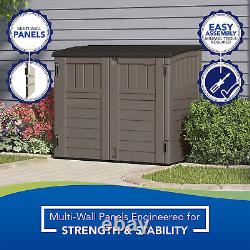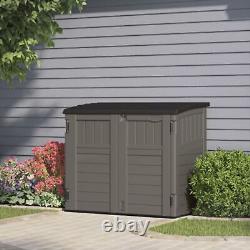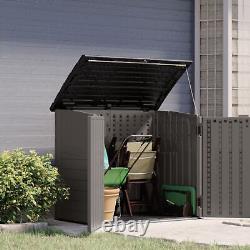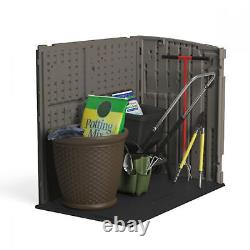 Sign up to receive special insider notifications of our latest deals, promotions, and new listings! Suncast Horizontal 4 Foot x 2.5 Foot Outdoor/Garden Storage Shed, Stoney Grey. For a functional and sleek addition to your backyard, check out the Suncast Horizontal Glidetop Storage Shed. With ample space of 34 cubic feet for all your storage needs. This tool shed features a unique glide-top door system that allows you to save space while providing easy access to your items. The pad-lockable door ensures your belongings stay safe and secure with the 3-door locking system for peace of mind knowing your equipment is not going anywhere. Constructed with resin-reinforced, multi-wall resin panels that provide additional strength and stability, this storage shed provides reliability and durability you can count on. The reinforced resin floor is built to withstand heavy loads such as bikes, snow blowers, push lawnmowers, trash bins, and more. The shed also features a full wooden skeleton frame for maximum strength under heavy snow loads.
The shed's sleek design allows for functional placement and storage of yard equipment, garden tools, or garbage bins to fit neatly in many spaces. The shed is low maintenance and easy to clean and maintain. Assembly is a breeze with minimal tools required.
The multi-wall resin panels are engineered for strength and durability, while the all-weather construction provides protection from the harsh sun rays. Create a stylish and functional storage space in your backyard with the Suncast Horizontal Glidetop Door Storage Shed. Spacious 4-foot by 2.5-foot storage shed showcases a simple, modern design, great for any backyard space. Multi-wall reinforced-resin panel construction for strength and stability; Reinforced resin floor withstands heavy loads.
All-weather construction resists the effects of water and protects your shed from Ultra-Violet Rays. Pad-lockable sliding door for added security (Lock not included); The 3-door locking system made to avoid tampering. Low profile design made to fit easily along the side of your home or along your fence line. Low maintenance and easy to clean; Minimal tools required for quick and easy assembly.
Interior Dimensions (L x W x H): 28.25 x 49 x 43.5 inches. Exterior Dimensions (L x W x H): 32.25 x 53 x 45.5 inches. Cancelling Your Order: Your order is important to us and will be processed immediately. Select the reason for the return.