Suncast 34 Cubic Feet Horizontal Compact Outdoor Storage Shed Stoney Gray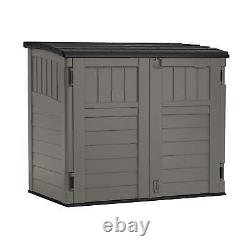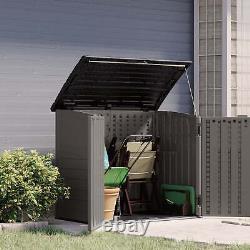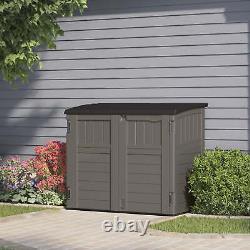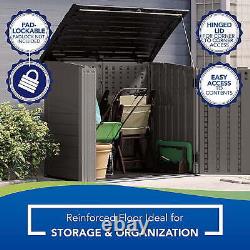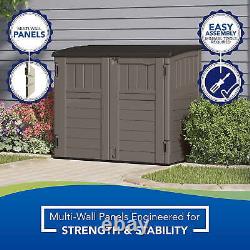 Bring handsome style and functionality to your yard or garden with the 34-cu ft Storage Shed. It's made of multi-wall resin with a stony gray finish to match your existing decor. The shed gives you extra space with protection from the elements in a convenient horizontal design. Place in on your deck, patio, alongside your home or nestled up against the backyard fence. It's ideal for storing smaller garbage cans, recycle bins, garden supplies, pool equipment, patio cushions and accessories, sporting gear, shovels, rakes and much more.
It features a reinforced floor that supports even heavier items and customizable interior that supports additional shelving (not included) for more organizational opportunities. The 34-cu ft Storage Shed has a three-door design that can be secured with a padlock able 3-door locking system. In addition, it also has a lift-up lid with a hands-free prop rod that keeps it in place for quick access to stored items. It's easy to assemble and maintain for your convenience. Backyard shed with a compact profile features 3 doors for a secure storage space and easy access to your items.
Low maintenance, durable multi-wall resin construction with a Stoney gray finish. Reinforced floor for heavier items.
Padlock ready, 3-door locking system for durable security (lock not included). Fast, secure assembly is easy for your convenience. The door opening measures 46.25 in.
W x 40.25 in. H, interior measures 2 ft. And exterior of the shed measures 2 ft. Perfect for alongside your home or in your backyard.