Stora Way All Weather Outdoor Horizontal Storage Shed Cabinet for Trash Cans, Ga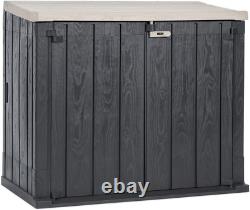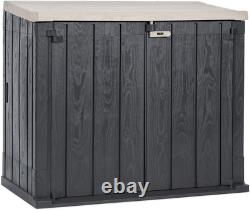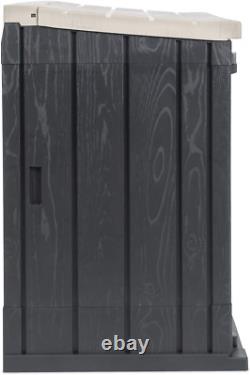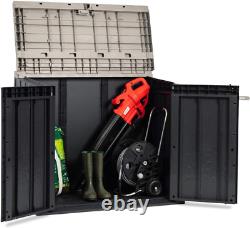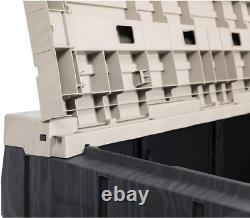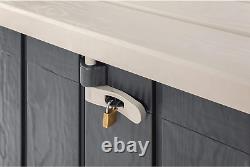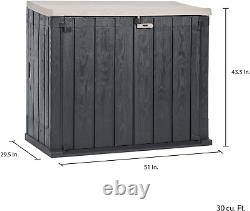 Stora Way All Weather Outdoor Horizontal Storage Shed Cabinet for Trash Cans, Garden Tools, and Yard Equipment, Taupe Gray/Brown. Weatherproof outdoor storage unit that blends the durability of plastic construction with the look and texture of natural wood, making it a visual appeal without the worries of constant maintenance. Customize your storage space effortlessly with the innovative walls that are paintable and drillable, allowing you to match the shed to your outdoor decor or storage needs. Heavy-duty walls of this storage unit will never peel, fade, or dent, providing a hassle-free and long-lasting outdoor storage solution and reducing the time needed for maintenance.
Keep your belongings secure and accessible with the one-touch opening handle and the option to add a lock for extra security, making it ideal for storing not only garden tools but also trash cans. Can accommodate various items, with external dimensions measuring 29.5 inches long, 51 inches wide, and 43.5 inches tall; interior dimensions measure 25 inches deep, 44.5 wide, and 37.5 inches tall. Transform your outdoor and indoor spaces with the Toomax Stora Way All Weather Outdoor Storage Shed Cabinet, your solution to elegant and secure storage.
This versatile storage cabinet reimagines the concept of outdoor storage, seamlessly blending durability with aesthetics to elevate your living spaces. With its spacious interior, this cabinet offers ample room to store various items, from outdoor furniture and stackable chairs to garden tools and BBQ accessories. You can even comfortably fit two trash cans and easily access them thanks to the smooth hydraulic piston mechanism of the bin lid. No matter what you choose to store, this weatherproof shed ensures your belongings remain protected from the elements. One of the standout features of the shed is its remarkable durability.
The heavy-duty walls are engineered to withstand the harshest outdoor conditions. They will never peel, fade, or dent, making this cabinet a maintenance-free and long-lasting storage solution. It's also designed with customization in mind. The walls are paintable and drillable, giving you the creative freedom to match the shed to your outdoor decor or storage needs. You can make it uniquely yours, both in function and appearance.
Security is another top priority. The one-touch opening handle provides easy access to your items, and for added peace of mind, you can add a lock to keep your belongings secure. Practicality meets aesthetics with front and top openings, ensuring convenient access to your contents. It's an ideal solution for storing trash cans, as it makes waste disposal a breeze.
Plus, the cabinet's external design complements your outdoor living space, adding an elegant touch to your surroundings. Whether you need to store garden equipment, outdoor furniture, or trash cans, this cabinet is your all-weather solution. Embrace the blend of functionality and style with the Toomax Stora Way Outdoor Storage Shed Cabinet. 51 x 43.5 x 29.5 inches. 43.5"D x 51"W x 29.5H. We reserve the right to cancel any order for any reason at any time. We are not responsible for undeliverable addresses. Your feedback very important to us, after you get your package and you are. If you have any problem with your order / any questions please before leave any type of feedback. Thank you for shopping at our store.