Keter Store-It-Out MAX Outdoor Resin Horizontal Storage Shed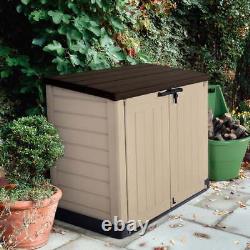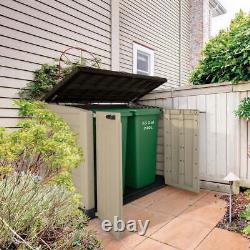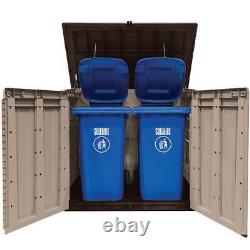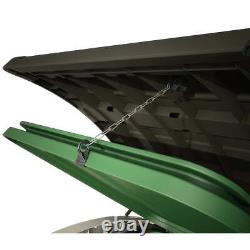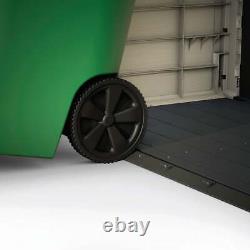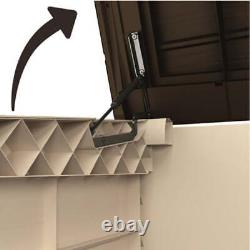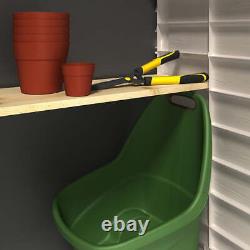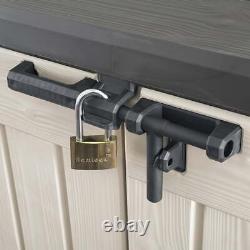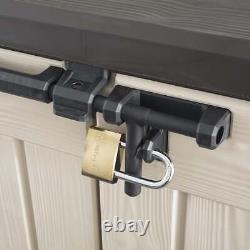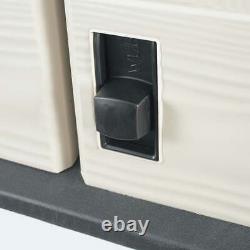 Keter uses durable, weather-resistant polypropylene plastic resin to create the Store-It-Out Max shed, and they're made durable to last for years and years. This versatile piece functions as both a storage shed with front opening doors and an extra large deck box with easy opening top lid with hydraulic pistons for ease of movement. Keter storage sheds never rust, dent or peel, so you know they can withstand heavy storage use and continuous bad weather.
Even with its extra-large storage compartment, this shed won't take up a lot of yard space. These sheds work perfectly for storing your mower, garbage cans and outdoor furniture. They even provide a convenient place to keep bicycles and barbecue grills out of the rain. Keter Store-It-Out MAX Outdoor Resin Horizontal Storage Shed Features. Internal dimensions: 51.97 in.
W x 29.92 in. D x 43.31 in. Storage capacity: 38.97 cu.
Floor weight capacity: 30 PSF. Roof weight capacity: 15 PSF. Can store two 32 gallon trash cans. Stylish wood-look texture in neutral colors to complement any home.
Made from polypropylene resin plastic & steel reinforcement to ensure its durability. Sloped threshold for easy wheeling in and out.
Opens from the top or the front. Hydraulic pistons for easy opening lid. Lockable latch (lock not included).
Built-in support for shelf (shelf not included). Weather-resistant, waterproof and UV protected.
Will not peel, rot or rust.