Keter KET-237831 Elite Store Outdoor Storage Shed 4.6 by 2.7 Foot, Deco Grey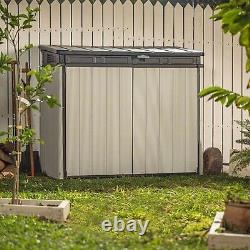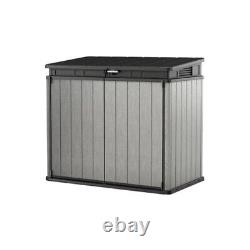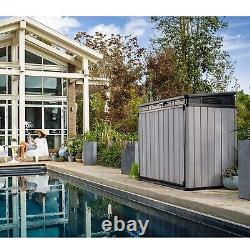 Keter KET-237831 Elite Store Outdoor Storage Shed 4.6 by 2.7 Foot, Deco Grey. For clean and secure storage for your outdoor spaces, the Keter Elite Store Shed will keep your organized. This outdoor container's 41 cubic foot storage capacity provides you the flexibility to store your pool equipment, trash cans, bikes, or even patio furniture. Your outdoor spaces will stay cozy and clean with the added storage this shed provide. This backyard accessory is built to last.
It can withstand the elements; its textured resin walls will not dent or peel. Boasting reinforced double-wall panels, this shed will keep your items protected for many seasons. The wooden look of the resin walls is paintable. You can customize this tote to match the color of your home or outdoor decor.
Accessing your stored items is easy. Hydraulic pistons make top opening simple; attach the shed lid to your trash can lids for hands-free easy disposal. Access your items through the piston-reinforced top lid, or through the front-open doors. This access is lockable, keeping your belongings secure. Customize this shed's Duotech walls by drilling into the walls to add interior shelving, or use adjustable brackets to customize your storage.
To keep your outdoor areas clutter-free, the Elite Store Shed from Keter is a sleek solution. Resin storage shed keeps outdoor spaces clean and clutter-free. Durable construction resists weather and UV; will not dent or warp. Easy-open lid with hydraulic pistons; attach lid to garbage cans for one handed lift.
Walls can be painted or drilled into; add shelving or paint to match the color of your home. Dimensions (L x W x H): 55.5 x 32.3 x 48.6 inches.