Keter Cortina Mega Horizontal Shed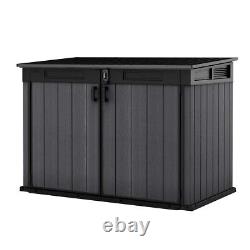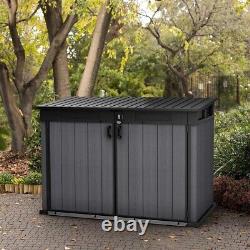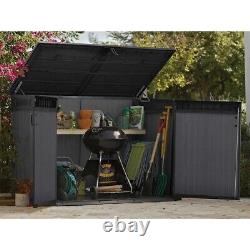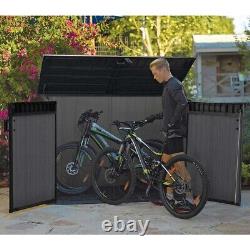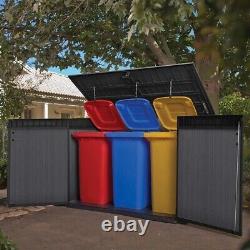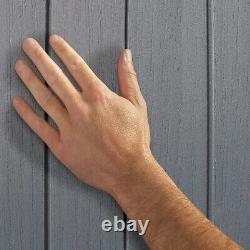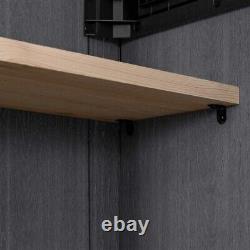 Keter Cortina Mega Horizontal Shed. Introducing the Cortina Mega Storage Shed by Keter. The Cortina Mega is a state-of-the-art storage solution that combines rustic style and durability. Made with ultra-rugged EVOTECH walls, it will withstand any weather conditions and will maintain its appearance intact without requiring maintenance. The walls are also paintable, so you can customize the unit to be uniquely yours.
This shed offers the perfect storage solution for two 96-gallon or three 63-gallon trash cans, two adult, and two children's bikes, or gardening tools. This storage unit also comes with a sloping threshold, locking system (padlock not included), built-in ventilation, and adjustable brackets to install an extra shelf. Holds two 360 L/96 G or three 240 L / 63 G trash cans. 3 doors locking system -lock not included, for peace of mind security.
Made of Evotech- offers the desired appearance and even the feel of wood combined with all the benefits of resin. A wooden shelf can be installed using the included adjustable brackets to expand the storage options. Easy to assemble thanks to the pre-cut tongue and groove panels. Built-in ventilation keeps the contents dry and ventilated. Sloped threshold to easily roll heavier items in or out.
Easy to open at the top thanks to the hydraulic piston system with one hand opening. Maintenance-free shed made from weather-resistant materials and steel reinforcement.
Small Less than 36 sq.